Help › ›
Game screen guide (old platform)
This article corresponds to the old game platform in Shockwave. If you wish, you can consu lt the corresponding article of the new platform.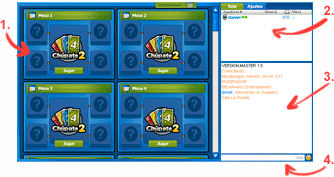 (1) Tables (2) Tabs and list of players (3) Chat (4) Field to write
1. Tables
Press playto sit at a table. Click on the icon of options
of any table to see how the game is configured.
| | |
| --- | --- |
| | Free hole in which you can sit to play. |
| | The table is private. You can only play if the head of tableinvites you. |
| | You can not sit at the table because you do not meet any of the requirements to play (for example, not having enough game tokens). |
| | The game is being played right now and you will not be able to sit down until its over. |
2. Tabs and list of players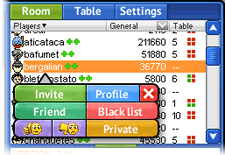 The tabsat the top serve to select the different chats (room, table, etc.).
In the settingstab you can customize the game area, such as sound, colors, if you want to receive invitations to play, if you want to see system messages in the chat, etc.
Clicking on a player in the player listwill open a drop-down menu:
3. Chat
Type in the field below chatand press ENTERto send a message.
Open the dialog to choose a gestural icon for the chat.
Related subjects
Enough information?